Wedding celebrations are a historic event in the lives of couples. It symbolizes a day when two people unite in matrimony for a life together.
When planning a wedding, ideas on what you want might be overwhelming. From making decisions on a gown, you like finding the best wedding venue, having a unique wedding can be challenging. However, in this article, we share with you super out-of-the-box ways to make your wedding extra-special.
Let us delve into specifics.
Create unique wedding invitations
Wedding invitations are the first interaction invitees have with your big day. They are a mode for communicating the events for the day, among other things. Invitees can quickly deduce the theme of the wedding at a single glance. So, why not design it in a way that stands out from the pile of mails in your mailbox?
Custom-made invitations are the way to go. For instance, acrylic invites are a unique idea of making an announcement. To make it more exciting, you can print the details of the wedding on colored acrylic.
An illustrated mini-book is also a great way to shed light on all the events your invitees should expect. This is especially important if you are planning to have an all-weekend wedding.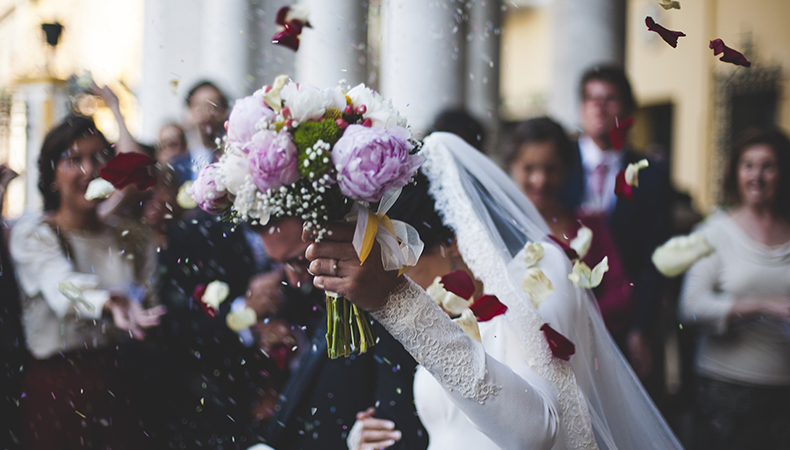 All in all, a unique wedding invitation depends on your preference. Get creative. Go for bold colors or create illustrations, whichever tickles your fancy.
Unexpected wedding venues
Skip the conventional garden receptions and go for a jaw-dropping and unexpected but unique venue for weddings.
If you are more inclined towards art, having a wedding reception at an art museum is a great out-of-the-box option. Exhibits and other historical artifacts are creative backgrounds that will look good both at the venue and in the photos.
Do you find water features attractive? Why not have a wedding venue on a boat? If you are financially capable, a yacht offers an exquisite reception for your guests. With the right décor, wedding invitees will marvel in fascination throughout the ceremony. What's more, your photographer will have an ecstatic time with the different sceneries available as backdrops for your wedding shots.
Not to leave the rustic lover behind, a treehouse venue offers one of the most stunning views. The green sceneries and surrounding Woodlands create the perfect ambiance for a wedding. Treehouses are small, and as such, it should be more of an intimate affair as the venue cannot accommodate a large number of people.
Think outside the box when it comes to cuisine
Wedding guests are used to traditional cuisines and shrimp cocktails. The culinary world offers a plethora of options for what to serve on your big day. Some out-of-this-world tantalizing cuisines leave your guests' taste buds bursting with flavors.
Name every reception table.
Another perfect way to stand out from your ordinary wedding is to have a unique name for every table at your reception. To make it more memorable, go for more intimate names. Think about where you met, your first date, or where your spouse proposed. Names like 'Boulevard Avenue,' 'Sally's coffee house,' or 'the Eiffel Tower' is bound to arouse the guests' curiosity.
When giving a vote of thanks, to make the wedding unforgettable, share with your guests a brief history of your love story. Tell them how the table names relate to your story. It is by doing so that you make the wedding harder for the guests to forget. These are new ways of applying wedding seating etiquette with a fresh twist.
Personalize the wedding music to what the guests love
Once you send out invites, ask the guests to RSVP; and while they do so, ask them to send three music requests they would like played at the reception. Your guests will feel appreciated, and there will never be a dull moment on the dance floor.
Create memories through the guest book
A guestbook allows guests to leave heartfelt wishes for a bride and groom at the start of a new life together. Why not make it more interesting by asking your guests to write down the memories when they first met you. Years down the line, you will appreciate all the memories you made with your friends while reminiscing about the good old days.
Cool guest transportation
If you plan to have the nuptials and celebrations in different locations, consider cool guest transportation. For a beach wedding, a boat ride would be a great way to help you transition from one location to the other.
Other transportation options that will wow your guests include a limousine, antique car, horse and carriage, helicopter, party bus, or golf cart.
For a more exhilarating experience, consider taking your guests on a hot-air balloon tour. Whichever mode of transport you choose, make sure it goes hand in hand with your theme. Please do not assume that everyone will drive themselves to find their preferred mode of transportation; plan.
What other way to welcome your guests to the event other than having bags stuffed with various goodies and a welcome card as a topper for each of them? To make this gesture more unique, give them personalized gifts. From candies to mini liquor bottles, you can never run out of ideas for presents.
Another gesture guests will appreciate and, most probably never forget, is including gift vouchers and certificates to favorite hangout spots in the city. Just make sure you personalize according to a guest's preferences.
Switch it up with cocktail drinks
Instead of having the conventional bar, allow guests to customize their own drinks. Have different types of liquor and fruits such as cherries, strawberries, and lemons on standby. Allow them to customize their champagne or champagne cocktails as they deem fit. However, remember to have bartenders on standby in case some of your guests need assistance.
These are some of the out-of-the-box ideas to make your wedding memorable. Switch them up to whoever you like for a more personalized feel.